Podstawową umiejętnością dobrego grafika jest przede wszystkim jego zdolność do szybkiego kojarzenia, i kreatywność. Na naszych zajęciach nauczysz się sposobów na jej rozwinięcie i doskonalenie. Zmierzysz się się z zadaniami, które zmuszą Cię do wytężonego myślenia i w ten sposób, niczym wytrenowany mięsień, rozwinie się Twoja pomysłowość.
Warsztaty z Grafiki polegają głównie na wymyślaniu ciekawych rozwiązań wizualnych na zadany temat. Może brzmi to dość osobliwie, że na zajęciach artystycznych głownie rozmawiamy i myślimy, ale takie właśnie podejście najlepiej się sprawdza. Dobry, ciekawy plakat od poprawnego odróżnia właśnie interesująca idea, która za nim stoi. Można odnieść wrażenie, że osoby kreatywne po prostu się takie rodzą, dostają jakiś magiczny dar od losu, nic bardziej mylnego. Inwencję twórczą także da się wytrenować i wyrobić – my wiemy jak.
Egzaminy na ASP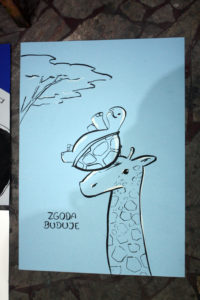 Egzamin na grafikę składa się z 4 części. Pierwsze zadanie polega na narysowaniu modelki przez 4 godziny. W formacie B1 ołówkami. Drugie to malarstwo, martwa natura w formacie B1 również przez 4 godziny. Trzecie to dwa zadania projektowe, po 4 godziny każde. Ostatnia jest rozmowa kwalifikacyjna i przegląd teczki.
Dla kandydatów na Grafikę zalecamy przychodzić przynajmniej dwa razy w tygodniu.
Przyjdź i razem opracujemy dobry plan !!!
Tak jak sportowiec chcący dojść do perfekcji w którejś z dyscyplin, tak samo Ty możesz, poprzez właściwy trening, udoskonalić umiejętność bycia kreatywnym. Zajęcia zwyczajowo rozpoczynamy od przeglądu prac z zeszłego tygodnia, oceniamy co wyszło dobrze, a co niespecjalnie. Wszyscy uczestnicy dostają wyczerpująca korektę i wskazówki co ewentualnie poprawić. Warto przysłuchiwać się korektom innych – z nich też można wiele się nauczyć.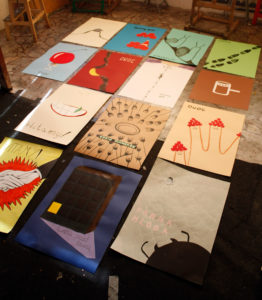 Następnie przystępujemy do serii zadań. Prowadzący podaje temat i formę pracy, a uczestnicy starają się przedstawić ciekawe rozwiązanie. Nie skupiamy się na gotowej pracy, tutaj chodzi o szybki szkic, zapis pomysłu tak aby na dany temat przedstawić jak najwięcej rozwiązań. Wszystkie szkice są omawiane i konsultowane przez całą grupę, po czym przystępujemy do kolejnego zadania.
Na koniec prowadzący wybiera, wszystkim co najmniej trzy najlepsze pomysły do realizacji, często podpowiadając technikę wykonania i sugerując rozwiązania formalne. Kursanci już na spokojnie w skupieniu realizują prace we własnym zakresie i przynoszą je na przegląd na następnych zajęciach.
Skontaktuj się z nami:
Prace graficzne naszych uczniów: