Architektura wnętrz, wbrew temu co się o niej myśli, to nie dekorowanie pokoju, wybór tapety czy mebli. To młodsza odnoga architektury, sztuki projektowania budynków. Łączy w sobie wiedzę o historii architektury, zasadach projektowania ogólnego, materiałach budowlanych, pojęciach urbanistycznych, a przy tym jako wspólny mianownik dla wszystkiego bierze człowieka: jego wymiary i potrzeby.
Na tych zajęciach uczniowie dowiadują się dlaczego krzesło ma siedzenie na wysokości 40 – 50 cm, i jak szerokie powinno być, co to 50 c w tabelach atlasów miar człowieka, że osoba z ograniczeniem ruchowym to także dziecko, senior lub mama z dzieckiem w wózku. Jak stworzyć przestrzeń która dogodzi każdemu i czy to w ogóle możliwe? Czy lepiej postawić na mocny kolor czy lepsze są wnętrza pastelowe i mało konstrastowe? Jak działa nasz wzrok, co to ciąg technologiczny, ergonomia i jakie są najnowsze trendy i pomysły na organizację miejsca. Architektura wnętrz ściśle współpracuje ze wzornictwem z zakresu projektowania mebli, wyposażenia wnętrz oraz sprzętów i materiałów wykończeniowych, elementach dekoracyjnych.
Rysunek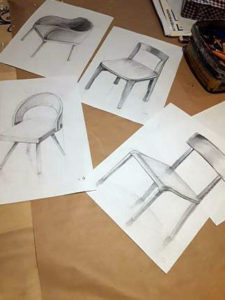 To podstawa porozumiewania się ze światem projektowym. Dzięki sprawnemu posługiwaniu się narzędziami: ołówkami, cienkopisami, markerami czy farbami, przekazujemy co nam w głowie siedzi. Przez cały cykl zajęć umiejętności są rozwijane we współpracy z malarzami artystami na ich zajeciach sztalugowych.
Rzuty, rysnki techniczne
Na zajęciach uczniowie poznają specjalny język projektantów: rzuty i rysunki techniczne. Rozszyfrowują, odkodowują i tworzą własne.
Aksonometria, perspektywa
aksonometria, perpektywa jedno czy dwuzbiegowa, to podstawa do tworzenia rysnków przestrzennych. Z czasem dorzucamy do tego cienie, odbicia lustrzane, ćwiczenia z inwersją światła, oraz zadania z tekstu.
Kompozycja, makietowanie
Bardzo ważnym elementem egzaminów wstępnych na studia są zadania z kompozycji: płaskiej i przestrzennej, barwnej i linearnej. Uczymy się jej zasad, wykorzystywania w projektach i rysnkach. Operujemy wrażeniami, trochę gramy na uczuciach, uwrażliwiamy. Makietowanie to kolejne narzędzie projektanta z którym zmierzymy się na zajeciach. Siatki brył pomogą rozruszać wyobraźnię, a w połaczeniu jednego i drugiego tworzymy kompozycje przestrzenne pokazujące nasze zdolności.
Kurs uatrakcyjniony jest o zajęcia z akwareli, wspólną wycieczkę po dniach otwartych na ASP, pokaz programów pomocnych przy projektowaniu graficznym i projektowania przestrzennego.
Skontaktuj się z nami: